Review
ABOUT THE BOOK:
Title: PRIMROSE LANE
Author: Debbie Mason
Series: Harmony Harbor, #3
On Sale: June 27, 2017
Publisher: Forever
Mass Market: $7.99 USD
eBook: $5.99 USD
Olivia Davenport has finally gotten her life back together. She's left her painful past behind, started over in a new town, and become Harmony Harbor's most sought-after event planner. But her past catches up to her when Olivia learns that she's now guardian of her ex's young daughter. With her world spinning, Olivia must reconcile her old life with her new one. And she doesn't have time for her new next door neighbor, no matter how handsome he is.
Olivia may act like she's got everything under control, but Dr. Finn Gallagher knows a person in over her head when he sees one. He'd really like to be the shoulder she leans on, but Olivia makes it clear she doesn't want his help. Since he's returned to town, his waiting room has been full of single women feigning illness. Yet the one woman he's interested in is avoiding him. But with a little help from some matchmaking widows and a precocious little girl, Finn might just win Olivia over.
BONUS: The eBook edition includes a complete novel from BookShots Flames, THE MCCULLAGH INN IN MAINE by Jen McLaughlin!
BUY THE BOOK HERE:
Amazon ~ Barnes & Noble ~ Books-A-Million ~
Google Play ~ iBooks ~ IndieBound ~ Kobo ~ Target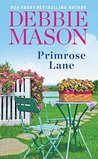 Primrose Lane by Debbie Mason
My rating: 4 of 5 stars

This is book #3 in the Harmony Harbor series. This book can be read as a standalone novel. For reader enjoyment and understanding, I recommend reading this fun series in order.

Dana AKA Olivia has hidden her identity to protect more than her money. She has taken hit after hit emotionally over the last bit. Just trying to survive takes it toll most days. Then this man, who reminds her too much of her former husband is so infuriating!

Finn is getting picked on by the whole family to stay. Like working with Doctors Without Borders is not good enough. Then there is the matchmaking. The woman they want him with is not his type. Or maybe too much his type.

This series is full of fun and humor. Such interesting and quirky characters. Just overall a fun read. There were times I wanted to reach into the book and smack the leading man, but hey, that just makes it an interactive book. I cannot wait to see what this author will give us next!


***This ARC copy was given in exchange for an honest review, by Netgalley and its publishers.

View all my reviews
THE HARMONY HARBOR SERIES:
MISTLETOE COTTAGE, #1
CHRISTMAS WITH AN ANGEL, #1.5
STARLIGHT BRIDGE, #2
PRIMROSE LANE, #3
Primrose Lane Playlist:
https://play.spotify.com/user/foreverromance/playlist/3n4iZjP2UK9adMKSUuQw4Z
1. Rachel Platten—Stand by You
2. Thomas Rhett—Die a Happy Man
3. Bruno Mars—Marry You
4. DNCE—Cake By The Ocean
5. Lukas Graham—7 Years
6. Train—Marry Me
7. Chuck Wicks—Always
8. Savage Garden—Truly Madly Deeply
9. Ronan Keating—When You Say Nothing At All
10. Lonestar—Amazed
ABOUT THE AUTHOR:
Debbie Mason is the USA Today bestselling author of the Christmas, Colorado series. Her books have been praised for their "likable characters, clever dialogue, and juicy plots" (RT Book Reviews). When she isn't writing or reading, Debbie enjoys spending time with her very own real-life hero, their four wonderful children, two adorable grandbabies, and a yappy Yorkie named Bella.
Website -- Facebook -- Twitter -- Pinterest -- Goodreads
FOLLOW FOREVER ONLINE:
Website * Facebook * Twitter * Instagram * Pinterest
RAFFLECOPTER GIVEAWAY:
—OR—
http://www.rafflecopter.com/rafl/display/26635ce2475/?